Latest posts 'Misc'
06/08/2014
Titled as "Hayley Williams risks her neck onstage", MTV Spain has shared this post earlier today (Aug. 6th) which I've found rather interesting for all fans to read. You can also see the original post in Spanish HERE.
"Truth is real rock stars are no longer made. Back in his time, Mick Jagger was capable of spending all night long partying with his good friend Jack Daniels and get onstage the next morning to shake his hips in his tight jeans.
That is why we don't even want to think of what the Rolling Stones would say if they found out that Paramore's singer Hayley Williams never forgets to stretch so she doesn't hurt her neck during the show.
"These days I have to do stretches so I don't hurt my neck head banging. I'm loving it but I might collapse at one of these shows." said the band's front woman to the newspaper Daily Star.
Even though you could say she's just being cautious, she's had the chance to see what the rock star life is taking to her band-mates. The bassist of the band, Jeremy Davis who is 29 years old, got a beautiful hernia after their tour around the US.
After what happened to him, it seems logical to us that this girl stretches as much as she wants, and a little bit more."
I personally think that MTV's writer should give it a second thought before publishing such post, where Hayley's health seems to matter less that Mick Jagger's tight jeans. I also hope you noticed the lack of respect for the band, which is quite unprofessional of such a big company as MTV.
We encourage you all to leave your thoughts below. Thank you for reading.
20/07/2014
Hayley has quite recently revealed that she's now got a dog called Alf! Alf is a goldendoodle puppy.
Hayley has already been tweeting a few pictures of him and you can also find those pictures in our gallery.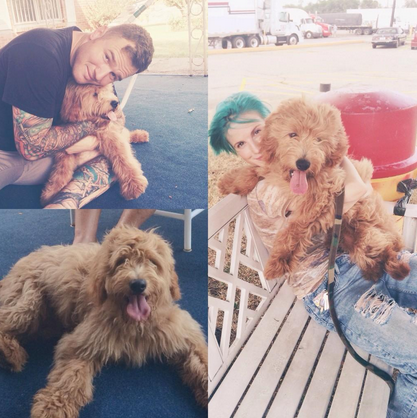 30/10/2013
Paramore's custom Converse sneakers have been sold for $1.095. That amount of money will be donated to the National Breast Cancer Foundation as part of the Warner Music In Their Shoes charity auction.
16/10/2013
Paramore will be taking over Live Nation's Twitter account for a Q&A session today! If you are a legal US citizen, send in your questions here and get a chance to win tickets to a Paramore show! If you aren't a US citizen or don't want to take part in this contest, tweet your questions using the hashtag #AskParamore.
The Twitter Takeover will happen today at 3.30 pm (11:30pm UK time) Pacific time (Los Angeles time).
19/08/2013
Paramore's tour drummer, Miles McPherson, who has been touring with the band since April, has been involved in a serious golf cart accident. Miles was just preparing for the upcoming European tour with Paramore, when the accident happened.
Miles, his wife Jessica and their two friends were riding in the golf cart and suddenly the golf cart flipped on top of him. Miles, who was driving the cart, suffered the worst injuries. His wife and friends only suffered minor injuries.
Miles has some severe third-degree burns on his body, 7 broken bones on his face but he is conscious. According to his wife he has been cracking jokes and has been able to move as well.
Below is a video of a news segment from Fox17 News regarding Miles and his accident. Please note the video is not for the faint-hearted.

His friends have set up a fundraiser to help Miles and his family with all the hospital costs, because Miles, a father of two, plays drums for his livelihood and is not able to do that now. It's too early to tell if his injuries will have a lifelong impact on his ability to play drums. It's unknown whether or not Miles will be joining Paramore on the upcoming tour.
To read more about Miles' accident and what you can do to help, go here. Even if you can't donate, please keep him in your thoughts and prayers. We're rooting for you Miles, have a speedy recovery!
Source: Fox17 News
16/08/2013
Paramore's song "Now", the first single from their newest self-titled album, will feature in the a video game called "Rocksmith 2014" in which you can learn how to play a real guitar by plugging it to the console. Easy and fun way to learn playing your favorite songs from your favorite bands.
Click HERE for more info about the video game.