Latest posts 'Music'
13/09/2017
Yesterday, Paramore posted a picture on their Instagram that showed them rehearsing for something special. That special thing ended up being a Tiny Desk concert which will be released soon on NPR. Until the concert is released you can check out some photos here and videos below!
25/08/2017
Today, Paramore took the stage on Good Morning America! The band performed "Hard Times", "Fake Happy" which has been announced as the newest single from After Laughter and "Rose Colored Boy. For fans present during soundcheck, the band played "Caught In The Middle". You can see videos from the show below!
Interview #1 with Paramore –
Hard Times –
Rose Colored Boy –
Fake Happy –
Caught In The Middle –
Interview #2 with Paramore
10/08/2017
It appears that "Fake Happy" is going to be sent out to radio stations on August 29th according to AllAccess.com. Paramore released a radio cut of the song in June. This is exciting news because it could mean "Fake Happy" is the next US single.
19/04/2017
Paramore announced their 5th studio album today! The album will be released on May 12th and it's called 'After Laughter'. You can pre-order the album here, merch bundles are also available.
The tracklist and the album art can be seen below.
1. Hard Times
2. Rose-Colored Boy
3. Told You So
4. Forgiveness
5. Fake Happy
6. 26
7. Pool
8. Grudges
9. Caught In The Middle
10. Idle Worship
11. No Friend
12. Tell Me How
The first single from the album was already released today. It's called 'Hard Times' and you can watch a music video for it below.
The band also announced new European tour dates for this summer and there's also at least one date in the US later this year. Pre-sale tickets will be available Wednesday, April 26th and the general on-sale begins Friday, April 28th.
TOUR ONE:

Jun 15 Olympia Dublin, Ireland
Jun 16 Waterfront Belfast, United Kingdom
Jun 18 o2 apollo Manchester, United Kingdom
Jun 19 Royal Albert Hall London, United Kingdom
Jun 21 Colston Hall Bristol, United Kingdom
Jun 22 Usher Hall Edinburgh, United Kingdom
Jun 24 Palladium Köln, Germany
Jun 25 013 Tilburg, Netherlands
Jun 27 GRAND REX Paris, France
Jun 29 Arena Open Air Wien, Austria
Jun 30 Volt Festival Sopron, Hungary
Jul 02 Admiralspalast Berlin, Germany
Jul 03 Stadtpark Hamburg, Germany
Jul 05 Rock For People Hradec Kralove, Czech Republic
Jul 07 Cirkus Stockholm, Sweden
Jul 09 Ruisrock Turku, Finland
Jul 12 Vega Copenhagen, Denmark
Jul 14 Slottsfjell Tonsberg, Norway

Sep 15 Riot Fest, Chicago, IL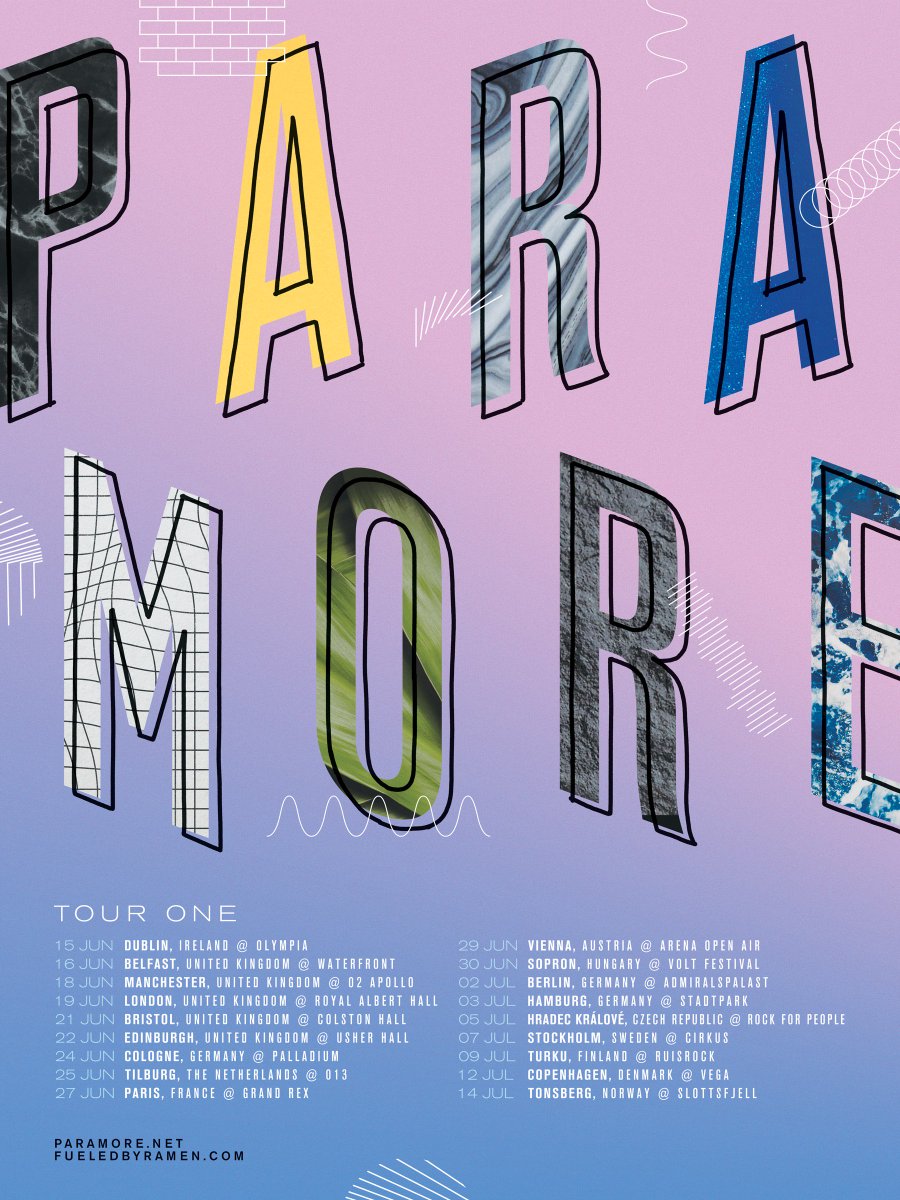 18/03/2017
Hayley will feature on the track "As U Wave" on Zac's upcoming Halfnoise EP entitled "The Velvet Face". Preorder of the EP is available at smart.url.it/velvetface and is to be released on March 24th. You can listen to a preview of the song "As U Wave" below.
21/09/2016
Paramore will be part of celebrity photographer Jeremy Cowart's Purpose Hotel project and they will be featured on The Purpose Hotel, Vol. 1 soundtrack to help fund the project.
The Purpose Hotel is a hotel in which everything benefits a worthy cause. The Internet fee will go to an initiative fighting human trafficking, the furniture creation will provide jobs for people in need, and each room will sponsor a child's education, with a plaque on each door telling that child's story. You can read more about the project here.
The soundtrack will have 20 tracks from different artists. It's still unknown whether or not the soundtrack will include a new Paramore song, "Purpose Hotel is something that we want do locally with our community. But it isn't promotion for new album!" Hayley tweeted when a fan asked about a new song.
You can pre-order the soundtrack at the project's kickstarter page. Everyone who pledges $15 or more will receive digital version of the soundtrack, it's expected to be released sometime next month.
Jeremy commented on the artists of the soundtrack saying "The artists we've chosen for The Purpose Hotel soundtrack are not only friends of ours, but their songs perfectly fit where we see the hotel going, with themes of justice, relationships, beauty and hope."