Latest posts 'Tour'
19/04/2017
Paramore announced their 5th studio album today! The album will be released on May 12th and it's called 'After Laughter'. You can pre-order the album here, merch bundles are also available.
The tracklist and the album art can be seen below.
1. Hard Times
2. Rose-Colored Boy
3. Told You So
4. Forgiveness
5. Fake Happy
6. 26
7. Pool
8. Grudges
9. Caught In The Middle
10. Idle Worship
11. No Friend
12. Tell Me How
The first single from the album was already released today. It's called 'Hard Times' and you can watch a music video for it below.
The band also announced new European tour dates for this summer and there's also at least one date in the US later this year. Pre-sale tickets will be available Wednesday, April 26th and the general on-sale begins Friday, April 28th.
TOUR ONE:

Jun 15 Olympia Dublin, Ireland
Jun 16 Waterfront Belfast, United Kingdom
Jun 18 o2 apollo Manchester, United Kingdom
Jun 19 Royal Albert Hall London, United Kingdom
Jun 21 Colston Hall Bristol, United Kingdom
Jun 22 Usher Hall Edinburgh, United Kingdom
Jun 24 Palladium Köln, Germany
Jun 25 013 Tilburg, Netherlands
Jun 27 GRAND REX Paris, France
Jun 29 Arena Open Air Wien, Austria
Jun 30 Volt Festival Sopron, Hungary
Jul 02 Admiralspalast Berlin, Germany
Jul 03 Stadtpark Hamburg, Germany
Jul 05 Rock For People Hradec Kralove, Czech Republic
Jul 07 Cirkus Stockholm, Sweden
Jul 09 Ruisrock Turku, Finland
Jul 12 Vega Copenhagen, Denmark
Jul 14 Slottsfjell Tonsberg, Norway

Sep 15 Riot Fest, Chicago, IL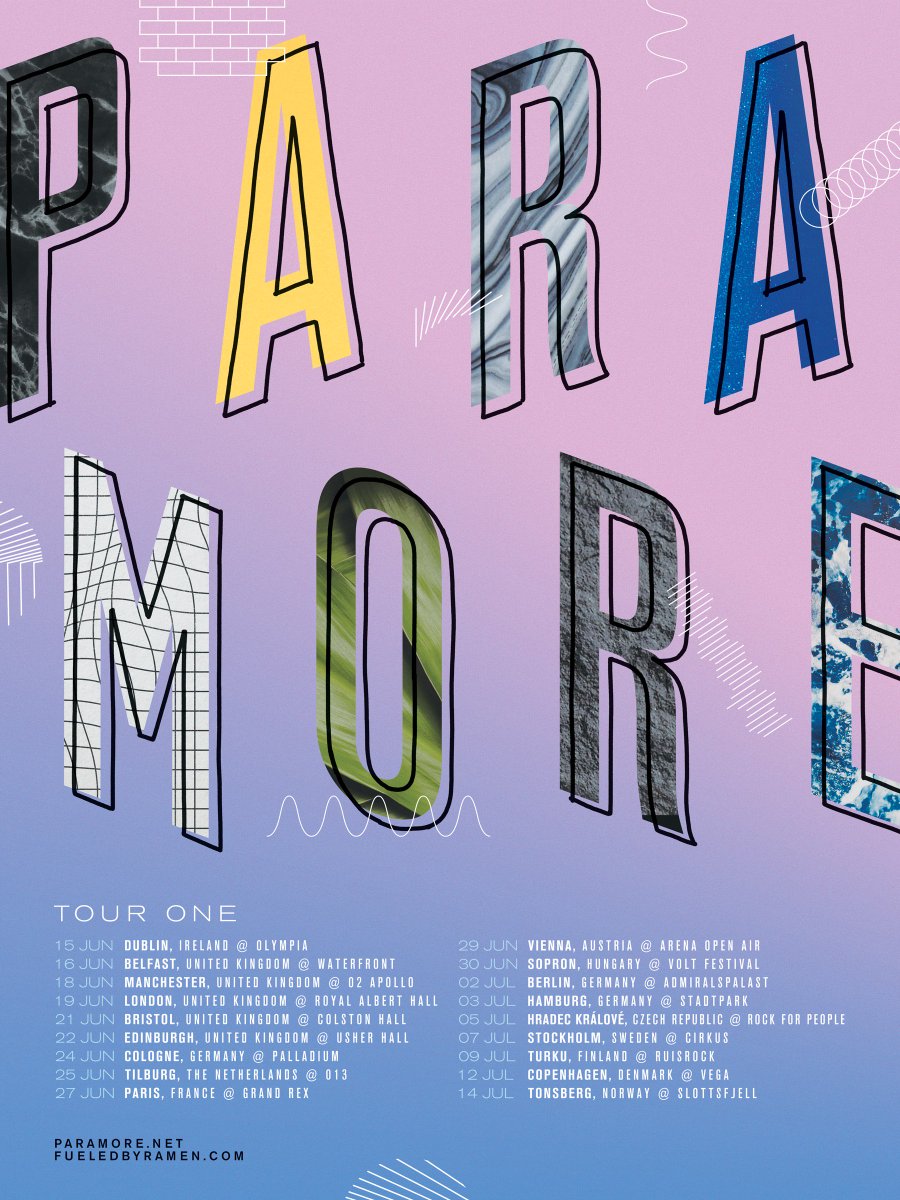 28/10/2015
Paramore just posted a new video announcing the full lineup for the second Parahoy Cruise! The lineup features Paramore, CHVRCHES, X Ambassadors, Lights, New Found Glory, mewithoutYou, Vacationer and also some DJ's and comedians.
The sold out four-day cruise from Miami, Florida to Cozumel, Mexico will take place on March 5-9, 2016. You can read more information here.

Watch the band's announcement video below.
27/05/2015
Paramore played the last show of 'Writing The Future' in Portland, OR at the Arlene Schnitzer Concert Hall last Monday. We have updated new photos from the show, go to our gallery to see them all.
This show was sold out and three fans got on stage during 'Misery Business'. Copeland also joined the band on stage during 'One Of Those Crazy Girlz', you can watch a video of that here.
25/05/2015
Paramore performed in San Diego, CA at the SDSU Open Air Theatre on May 22nd and in Los Angeles, CA at the Dolby Theatre on May 23rd. We have updated new photos from both shows and also photos with fans and friends backstage at the Los Angeles show. You can see all the photos in our gallery.
Paramore also had a special guest, Joy Williams performing 'Hate To See Your Heart Break' with them in Los Angeles, you can watch a video of the performance here. The band plays the last show of 'Writing The Future' tonight in Portland, OR at the Arlene Schnitzer Concert Hall.
22.05.15 – San Diego, CA @ SDSU Open Air Theatre:
23.05.15 – Los Angeles, CA @ Dolby Theatre:
Show:
Backstage:
16/05/2015
Paramore performed at the Hangout Music Festival in Gulf Shores, AL yesterday. We have updated our gallery with new photos from the show and also photos from backstage, you can see all the photos here.
Show:
Backstage: